Who We Are
Red Earth Designs is a Ceramics and Framing Studio in the heart of Belfast which brings together the creative and business talents of twin sisters, Claire and Karen Gibson. We both have Master's Degrees in Fine and Applied Art from the University of Ulster at Belfast.
We have been in business since 2001, producing a range of unique and exciting ceramics with a very distinctive style.
Red Earth is open to the general public to call in and visit. We also undertake commissions & framing and have a full display of ceramics for sale in the studio.
Although we have now been trading for more than ten years we still get great enjoyment and satisfaction from making and selling our work.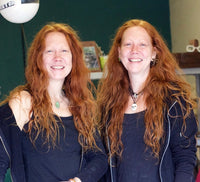 "The twins are sooooo talented! I feel privileged to know them and own some of their work. In a world where it's hard to make a living from craft, they buck the trend and I have no doubt They will be remembered! Buy a piece now you won't regret it"

Janice Stevenson
"Original and beautifully made pieces of art. Pure talent. The girls are also great for picture framing services "

Terrie Orr
"Just got a number of original artworks framed by the girls and they are terrific. Great advice on mounting etc, and a good laugh had at the same time - Absolutely recommend"

Stephen Macartney
Publications
Red Earth designs as featured in Irish Ceramics by John Goode
We were delighted to get four pages in this beautiful hardback book, and even happier when we discovered we made the front cover.. It is a fantastic, comprehensive guide to all the great potters working in Ireland.